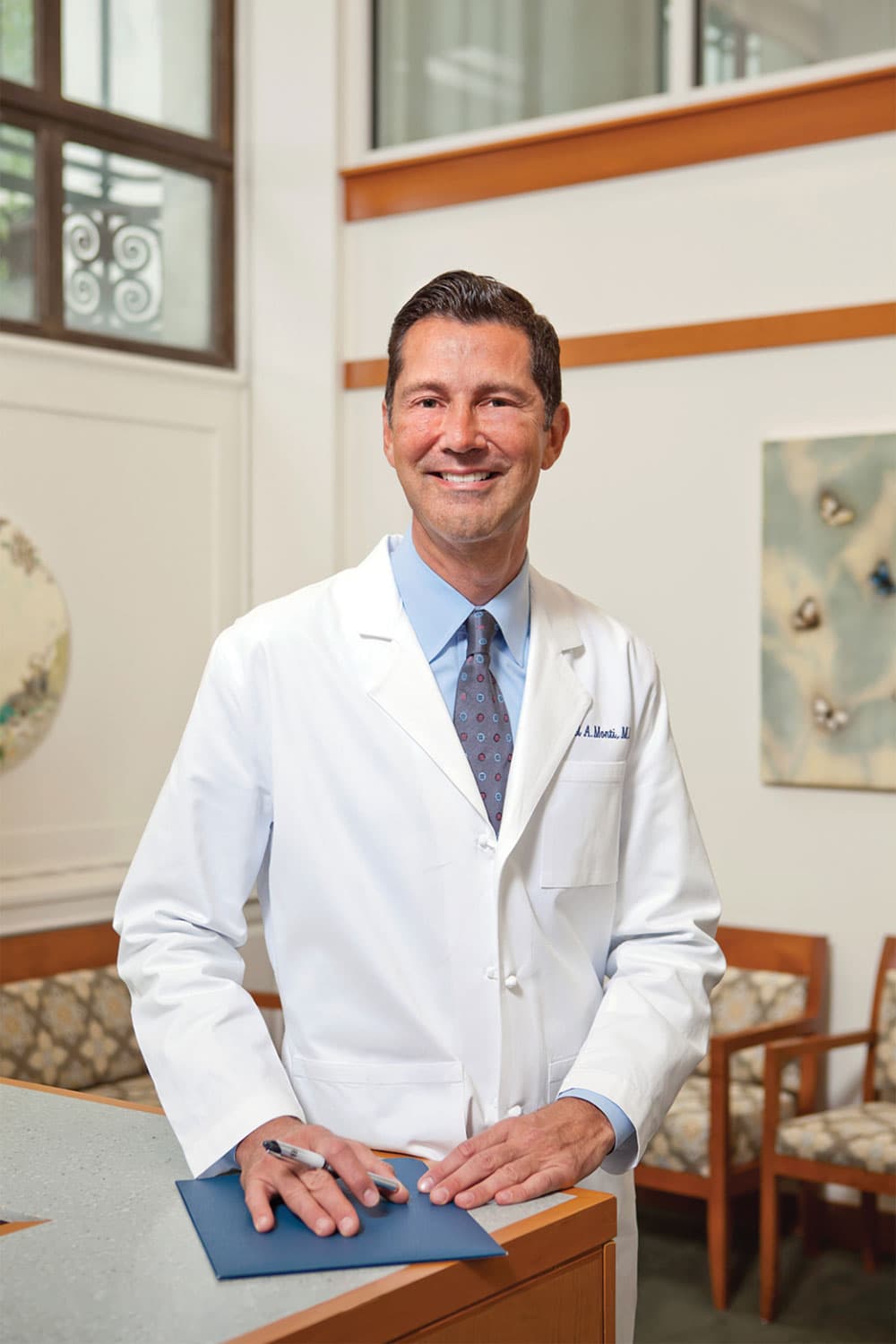 Dedicated to healing with innovative medicine
Daniel A. Monti, MD, MBA is founder and CEO of the Marcus Institute of Integrative Health and founding Chair of the Department of Integrative Medicine and Nutritional Sciences at Sidney Kimmel Medical College, Thomas Jefferson University.
Dr. Monti is an expert in integrative medicine, which is a scientific approach to health and healing that enhances conventional medicine with a broader range of treatment options than most doctors offer. This can improve patients' experiences and, most importantly, outcomes.
In addition to working with patients, Dr. Monti is the author of several books for patients looking to utilize integrative medicine to live healthier lives, and his scholarly research is widely published.
The Marcus Institute of Integrative Health
The Marcus Institute in Philadelphia is a global destination for clinical care that utilizes the best of modern medicine paired with innovative technologies and cutting-edge wellness solutions. Patients travel from throughout the globe to the Marcus Institute to receive personalized, understanding, and research-driven care that utilizes approaches such as micro-nutrient therapy and combined PET/MRI full-body diagnostic technology; medical providers also seek out continuing education in integrative medicine from the Marcus Institute to enhance their practice.
At the Marcus Institute, Dr. Monti and his team work with range of patients seeking integrative, preventive, and holistic treatment for weight problems, food sensitivities, complications of menopause (e.g., hot flashes, dryness, low libido), male and female hormone dysregulation, bone health, cognitive performance and brain health support, digestive problems, long-COVID, and many others. The team also provides executive medicine for those looking to optimize their health with comprehensive, full-day assessments that include advanced cardiac testing, metabolic testing, and innovative stress management.
---
Books
Tapestry of Health: Weaving Wellness into Your Life Through the New Science of Integrative Medicine
Dr. Monti is co-author, along with Dr. Anthony Bazzan, of Tapestry of Health: Weaving Wellness into Your Life Through the New Science of Integrative Medicine (Kales Press, 2020). While we have traditionally viewed medical care as something we seek out when sick, Tapestry of Health presents the integrative health approach: mindfully incorporating wellness into your lifestyle, not just through what you eat, but in all aspects physical, emotional, intellectual, spiritual, social, and nutritional.
Presenting health as a tapestry that we "weave" through each aspect of our daily lives, the authors share their science-backed plans for full body well-being:
How to reach an optimal, manageable weight
How to improve your nutrition, with detailed meal plans & vitamin guidance
How to sleep well
How to manage your stress
How to balance your hormones
Uniquely, the book shares imaging scans demonstrating the effects of this integrative approach for their patients, as well as detailed case studies of patients who were treated with natural remedies. The authors combine cutting-edge technologies—fMRI brain imaging, bone density diagnostics and DNA sequencing—with time-honored approaches—loving relationships, walks in the woods and plant-based meals—to invite you to enjoy a fuller, healthier life.
Brain Weaver: Creating the Fabric for a Healthy Mind through Integrative Medicine
Though adult cognitive development has previously been thought to be unyielding and static, Brain Weaver: Creating the Fabric for a Healthy Mind through Integrative Medicine offers new hope and empowerment for those looking to remain mentally vibrant for a lifetime.
Co-authored with Dr. Andrew Newberg, Brain Weaver shows that optimal brain health is achievable by successfully weaving together a tapestry of our bio-psycho-social-spiritual dimensions. Brain Weaver also coincides with a decades-long surge in the public's interest in whole-person treatments―body, mind and spirit evidence-based integrative therapies that include pharmaceuticals, electromagnetics, nutrition and meditation. Brain Weaver's timeliness is all the more important now to address a new paradigm for post-pandemic wellness that emphasizes our individual and collective responsibility for proactive healthcare.
Doctors Newberg and Monti's team at Thomas Jefferson University's Marcus Institute of Integrative Health are at the forefront of research in brain functioning and applications of the most advanced understanding in real-world strategies to expand options for optimizing our complex neurophysiology.
Education and credentials
Dr. Monti received his MD, summa cum laude, from the State University of New York School of Medicine at Buffalo. Beyond traditional residency he completed a Research Scholars Program in Neuro Science and later earned a Masters of Business Administration with Honors from Temple University Fox School of Business. He holds board certification from The American Board of Psychiatry and Neurology and the American Board of Holistic and Integrative Medicine. 
---

Did you know that you can change your brain? Learn about cutting-edge research proving that our cognitive health is not set in stone—and how you can live more vibrantly!
---
Historic, first-ever department of integrative medicine at a U.S. medical school
Dr. Monti is the founding Chair of the historic, first-ever department of Integrative Medicine at a US medical school at Thomas Jefferson University: the Department of Integrative Medicine and Nutritional Sciences at Sidney Kimmel Medical College. This puts the field of integrative medicine on par with dermatology, internal medicine, OB-GYN, and other traditional medical specialties.
Research and scholarship
Dr. Monti's extensive research experience has focused on neuroscience, brain effects of mind-body interventions, brain mechanisms of healing and recovery, and testing natural molecules for therapeutic efficacy in nervous system diseases and cancer. As both a clinical physician and researcher, he has dozens of scholarly publications and has been a peer reviewer for numerous medical journals and study sections at the National Institutes of Health and Department of Defense. Dr. Monti is also the recipient of several federally-funded and private research grants.